Meet Aditya Chauhan, he is a young entrepreneur. Singing and playing guitar is his passion and he is singing from last 8 years. He has taught more than 250 students and the number keeps on increasing.
I firstly performed as a singer in a nearby club. Only the food was complimentary  to me but I never considered it less as I wanted to showcase myself and it provided me a stage, says Aditya.
We at Bangalore Insider got an opportunity to talk Aditya and get his thoughts. I am sure his interview with us will be an inspiring.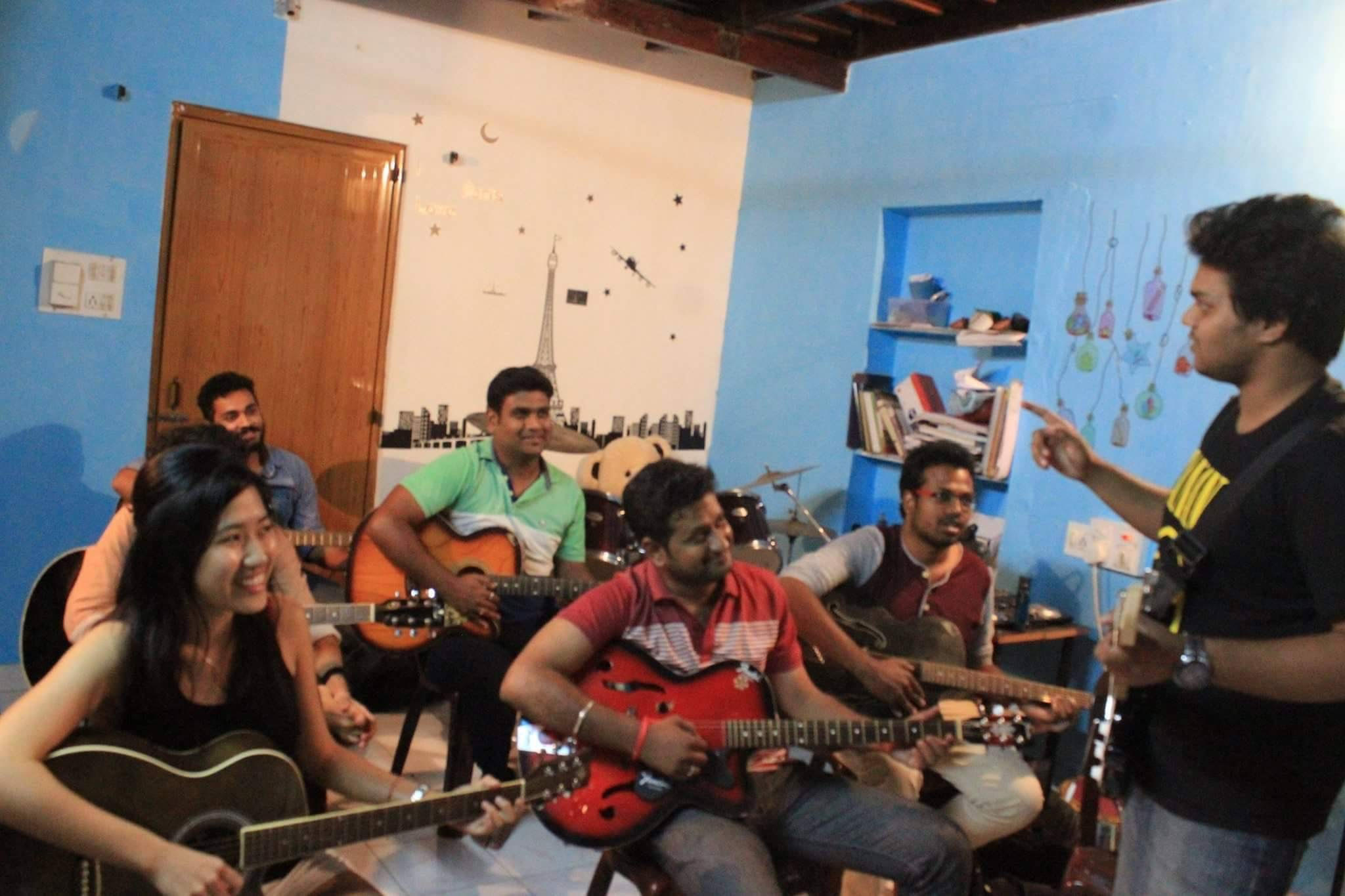 Tell us about yourself, what do you like most about your field of work?
I am a 23 years old entrepreneur and I like to experiment with businesses. Firstly, I grab a taste of all and thereafter decide what best suits my interests.
Who says life doesn't put a menu against you? It's for you to decide what do you want to be served, in future.
Dentistry is my core field but besides it, I love the music business the most. I have been a guitarist and a singer for eight years now, so that explains the connection I share with music. Tbh, I can't even think of a day without playing my guitar or singing.
In this interview, I would like to share with you all about my journey of setting up  a music institute  with "0" investment.
Your previous jobs/ventures? What were you doing before choosing this field?
As I had mentioned previously, I wanted to taste the flavors of different fields and wanted to be exposed to nearly everything a guy of my age can pursue. So I started working when I was 15.
I firstly performed as a singer in a nearby club. Only the food was complimentary  to me but I never considered it less as I wanted to showcase myself and it provided me a stage.
I performed  whenever and wherever I got a chance to.
The first salary based job I got, was of a career and motivational counselor and i simultaneously performed at clubs  for over five years.
My extrovertness and a good hold at words helped me market myself.
Although, my career as a musician didn't  pay me much but it indeed helped me get a great jobs.
I believe our hardwork always shows up and pays off.
Later, I pursued a degree in dentistry from Manipal, karnataka.
That place was not at all forgiving for me at first as I had no acquaintances and I did not speak the native language  either.
I, again took a chance and started singing at clubs during my second year in college.
By the end of the first semester in my second year, I quite got accustomed  to the city life there and set up a music institute there.
I advertised it on Facebook with a tagline "Keep calm and play guitar in three months."
I shared it endlessly and spread it when I met new people. I started teaching in a room that i had rented and i stayed there as well.
I got three students when i had started but it didn't  dishearten me and I gave my best. In three months, I got 30 students and shifted to a bigger room, bought all the instruments and hired four other teachers to teach at my institute.
It became the top institute in Manipal and I got it registered thereafter. I have taught more than 250 students till now.
I believe in trusting  people so I usually gave instruments on rent with the course, so the students could try and learn them without investing in it beforehand in case they lose interest and dont develop a passion for it, it would be a loss of their money.
The best thing I realized was that I never lost a single instrument even after I never asked for any security deposit. It was rather an interesting  job for me, considering  my passion yet I made a six digit income out of it.
If not the current profession, what would you have been?
I love my current profession entirely, I never had a second thought about it.
What motivates you to keep going?
I love working so I dont sleep without doing anything constructive everyday. Money is an add-on to your journey of success, it's not the end.
So more than making money, I love making myself better with every single day of my existence.
Passion drives my car, I have a "why not" attitude towards everything new that I haven't done before or if it poses a challenge.
I dont seem to operate well in an environment  of chatterboxes and judgements. Hence, I keep myself occupied as much as possible.
Tell us how a day in your life looks like? Your schedule for a day right from the time you get up till you hit the bed at night.
I barely manage to wake up and reach on time in the morning to my hospital duty (8.30 am)  so it is quite hectic. I just wake up and run as fast as I can.
I have my lunch break at 12:30 and till 2 so I either go back home or hangout with friends. I also keep my meetings fixed at this time so I attend them if there is any. I reach my class back by 2 and stay there till 4 till my last lecture.
Later in the evening I take classes if there is anything scheduled for the day, attend business meetings,Meet new people and take other jobs like promotions and marketing of upcoming ventures.
If I have an event in any club or functions, I finish it up and come back to home, Talk to my parents , meet my friends, check my social media and mails, Finish my business presentations, check accounts , strategise on further projects,make a To-Do List for the next day,sing some song and play my guitar and Be thankful to the God every single day and maybe watch some Netflix till I fell asleep.
Any regrets till now? If yes, will you like to share it with our readers?
I would state that I actually  have no regrets for I either earned or learned out of everything  I tried.
I spend my day to the fullest and would suggest my readers to do so as well because continuous  indulgence always leads to fulfillment. People would always come and leave, it's your mind,your skills and your work that would hold on to you forever.
If you were given a choice of meeting any person you want, who will be that person?
If you were…person?
Elon Musk tops my board. I think he is a very versatile and innovative  human so I would love to hear his perspective  towards life.
What is the biggest misconception that you think people have about you?
People have always thought of me as a person who has arrogance and ego because I was always busy in making myself better and investing my time on only my own self. They can't be called wrong as they only saw that very perspective  of me and hence I dont blame them. I kept working because I realized  that the right people would eventually come to me. I am not at all desperate when it comes to people.
Any message that you want to send to your readers?
Any message….readers?
For all the entrepreneurs,
I would suggest that you do not need to feel low at any phase of your life. I understand  that you all must be facing many challenges  and besides them, people must be leaving you behind because you dont give time to them. Trust me, every relationship  except your family, runs on your "time spent with them".
The more time you spend with them,the more good friend/boyfriend you are to them and vice- versa. Else in case of entrepreneurs ? You will always be misunderstood.
In this hard time of yours, you would lose friends and people simply because you would spend your time giving birth to a person you always wanted to become.
Never stop believing  in yourself.
If Shahrukh Khan does not believe  that he is a superstar then who else would? So you need to believe that you are a star. I personally have always believed that I'm a star just waiting for the right time to get the shine .
For tackling this hard time, you should believe that you are a worthy heir to a throne and it's just sometime left for you to get crowned.
Stay shining, all the best to you all in your journey.
Know a great startup story or want to share your own? Write to us at contact.bangaloreinsider@gmail.com and we will get back to you. For more updates follow Bangalore Insider on Facebook.